I've said it before: It's OK to say no to any new project, assignment, or role you're offered. I'll always encourage you to be ruthless—but diplomatic—when negotiating what you work on, so you can gravitate toward doing more of the work that energizes you, plays to your strengths, and makes your value seen and understood.
But let's say you're offered a new project, assignment, or role that's neither something you'd hate, nor your dream gig. What then?
Here's a brilliant yet oh-so-simple simple tactic that I picked up from Kayla Paulson, a consultant who helps non-profits lead change and engage their volunteers. Kayla says:
Master the art of the "Yes, if…"
So next time you're presented with a less-than-perfect offer, you could counter with:
✅ Yes, if… I can start after my kids go back to school.
✅ Yes, if… I can get help with this other pressing priority.
✅ Yes, if… if I can be the one to present our findings to senior leadership.
Last month I asked 1,400 participants in my Emerging Leaders Webinar Series: Have you ever said "Yes, if…" to an opportunity that was offered to you? As it turns out, many of them had! Here are some favorite examples: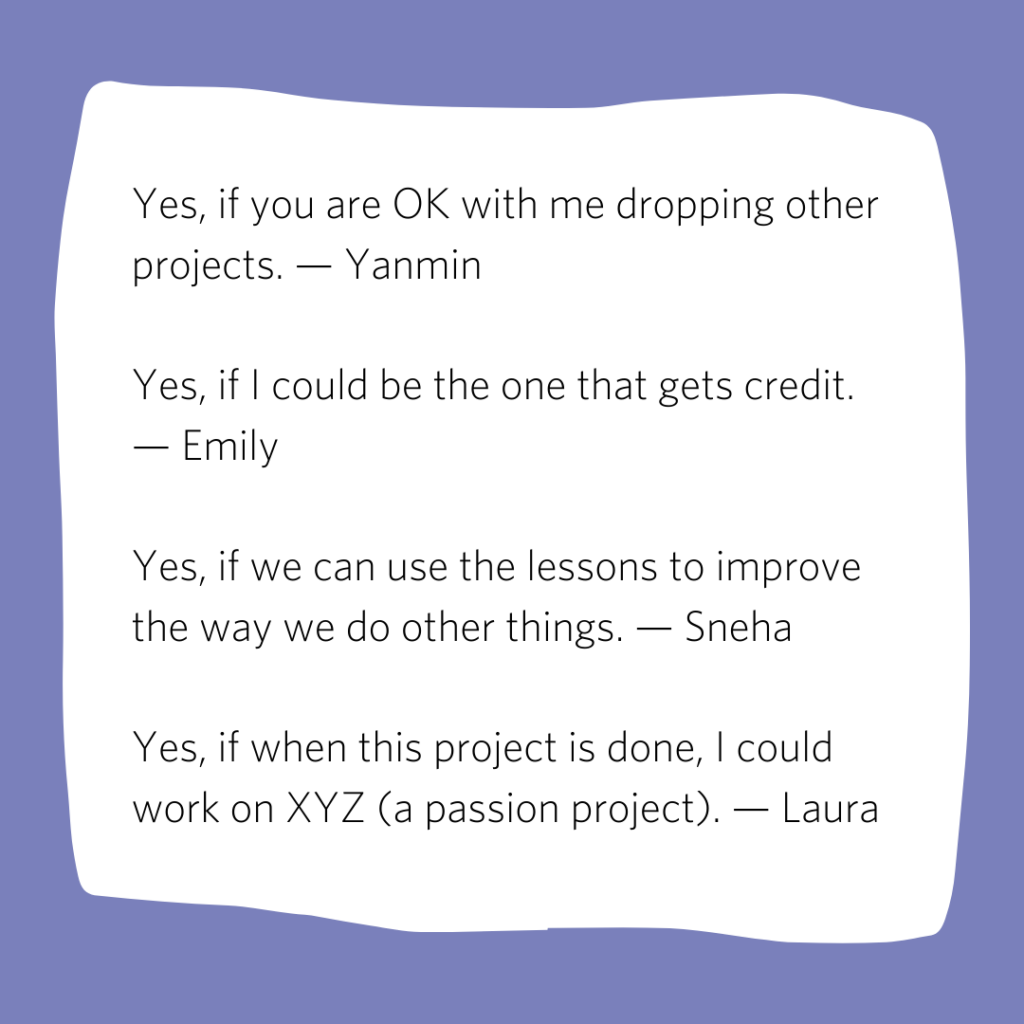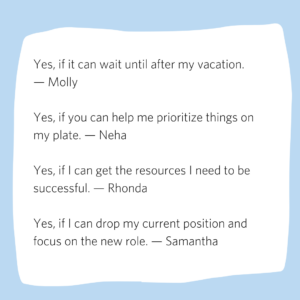 ✅ Yes, if you are OK with me dropping other projects. — Yanmin
✅ Yes, if I could be the one that gets credit. — Emily
✅ Yes, if we can use the lessons to improve the way we do other things. — Sneha
✅ Yes, if when this project is done, I could work on XYZ (a passion project). — Laura
✅ Yes, if it can wait until after my vacation. — Molly
✅ Yes, if you can help me prioritize things on my plate. — Neha
✅ Yes, if I can get the resources I need to be successful. — Rhonda
✅ Yes, if I can drop my current position and focus on the new role. — Samantha
Your turn! Have you ever countered an offer or a request with your own Yes If? Where did negotiations go from there?
For more ideas like this, get my book Woman of Influence: 9 Steps to Build Your Brand, Establish Your Legacy, and Thrive (McGraw-Hill, 2019). Download a free chapter here.